Database Actions menu allows you to perform such major actions as: Create/Open a new Tool Database and Import/Export/Create Tool Libraries
In order to access Tool Database actions you need to go to Tool Database tab and click on "Actions" button in the top-right corner.
A pop-up menu will show: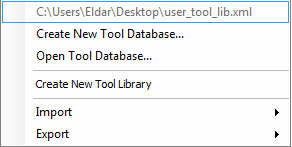 List of Database Actions
The very first option is not active. It only shows the location of the currently-opened database file.
Create New Tool Database
You will be prompted to set a location for a new empty Tool Database.
Open Tool Database
You will be prompted to select a Tool Database file to load into HSMAdvisor
Create Tool Library
Click to create a new empty Tool Library in the current Database.
Import
Click to Import Tool Libraries from an outside Tool Database file
You can use this action to effectively merge several Tool Database files in one.
Should there be a conflicting Tool Library names, you will be prompted to reneame the Libraries you are Importing
Export
Click to export some or all Tool Libraries into a new Tool Database file.
You will be prompted to select the Libraries you are exporting and specify the new Tool Database file.
You may like to learn about
© Eldar Gerfanov