Looking for a Mobile app?
Looking for a Speed And Feed Calculator app for iOS or Android?
Download Latest HSMAdvisor for PC Version
June 15, 2019, 10:22 pm by admin
What is new and improved in this version
Power requirements for all materials in Aluminum group have been revised.
Speed and feed calculations remain the same, but the value for Power requirement has been decreased by about 30-45%
Also Power requirements for all other materials (depending on the calculated chipload) may have been reduced as well. Mainly for calculations with low chipload.
Fixed the Floating SF window.
Added label explaining to use right mouse click to add/remove displayed items.
Added 310 Stainless and Dievar Tool Steel Hardened 50-55 RC
Shoulder Dia can not be set now if shoulder length matches the flute length
Fixed some bugs and glitches.
Product Description
HSMAdvisor is distributed as a fully-functional no-registration 30-day trial
The following languages are fully supported: English, French, Russian
Partially supported languages: Spanish, Turkish, Slovak, Czech, Polish
Installation directory
HSMAdvisor setup requires administrative privileges to install into Program Files.
Please download and unpack the ZIP folder into "My Documents" if you do not wish to run the installer
---
See Also
HSMAdvisor: The new kind of CNC Software - the one that works for professional machinists and hobbyists alike.
Confidently calculate cutting conditions for hundreds of work-piece materials and of combinations of tooling types and coatings.
Accurately Estimate cutting forces involved in machining process and prevent tool breakage.
Estimate machine power requirement and help choose best tool for the job.
Suggest safe and practical Axial and Radial engagement values.
Compensate for reduced-shank, long and extra-long tools.
Comes with MasterCAM hook
Speed and Feed Wizard | Tool Database | Threading and Tapping Reference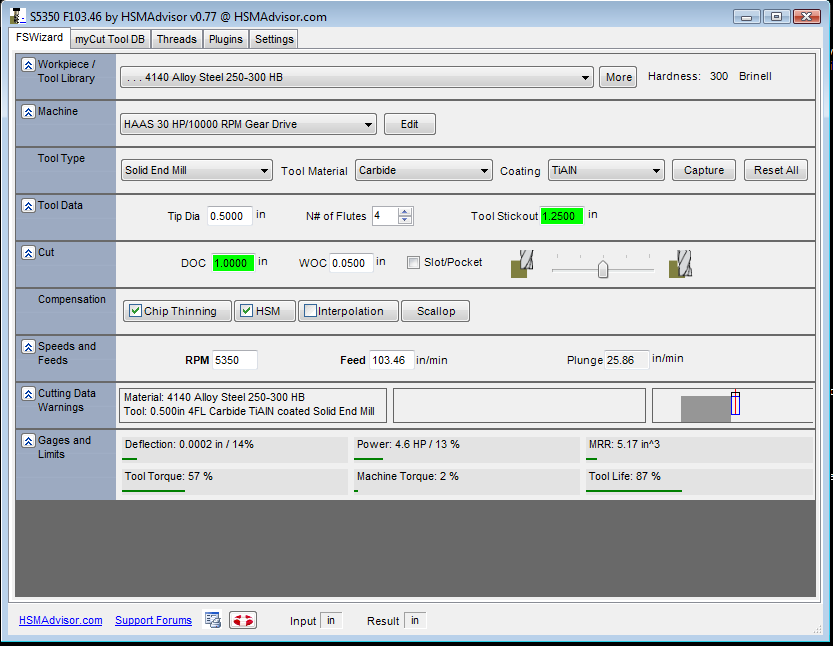 Key Features of HSMAdvisor:
FSWizard - the best feed and speed calculator inside the most affordable solution for production shops and hobbyists alike
Fail-Safe Speeds and Feeds for Milling, Drilling and Turning.
High Speed Machining/High Efficiency Machining.
Axial and Radial chip thinning.
Tool Life estimation.
Balancing Depth Of Cut against Width Of Cut and vise-verse.
Optimal Depth Of Cut and/or Width Of Cut suggestion
Reduction of depth of cut and/or feedrate for extra-long, tapered, reduced-shank tools.
The only calculator that accounts for flute length, helix angle, stickout and shank diameter at the same time.
Trochoidal/Peel Milling or Dynamic milling feeds and speeds.
RPM Reduction for extra long tools.
Maximum Horse Power, Spindle speed, Feedrate and Torque machine limits: using it is safer than your manufacturers cutting data!
Machining Horse Power and torque estimation.
Side Force and tool deflection estimation.
Tool breakage prevention against torque and deflection.
Speed/Feed compensation for long cutters
NO internet connection required
On the fly INCH - METRIC conversion. for EVERY input field: you can specify all or one of values to be either imperial or metric
All data is saved on exit and retrieved back on launch. So next time you open the program everything is where you left it.
Capture Wizard will help you exchange data between HSMAdvisor and CAD/CAM of your choise
Currently Supported tool types include
Milling Tools
Solid Generic End Mill - endmills for generic applications designed for medium roughing, semi-finishing and finishing on large scope of materials
Solid High-Performance End Mill - solid end mills marketed by their manufacturers as High-Performance.
These tools are often designed for a specific group of materials and allow for increased material removal rates and tool life
Indexed End Mill - Endmills with replaceable cutting edges and steel bodies.
These tools allow for higher cutting speeds due to shallow depths of cut and relative inexpensiveness of inserts
High Feed End Mill - Indexed end mill with extremely low lead angle that directs most of the cutting force in downward direction. Feature high feedrates and shallow depths of cut.
Helical Mills
Thread Mills
V-Bit Engraving Cutters
Features
Helical ramping and circular interpolation compensation calculator.
Recommended Peck distance in accordance to the depth of the hole
100% mathematical modelling of tools
Drilling Tools
Jobber Twist Drill - A HSS or Carbide twist drill with generic cutting geometry. Works for many applications.
Hi-Helix Parabolic Drill - A HSS or Carbide Drill with special geometry of the tip and flute that allows for higher feerdate, better coolant penetration. In some cases allows to drill without or with limited pecking
Reamer - a humble reamer
Tapping Tools
Cutting Taps
Forming Taps
ISO/UNC/UNF/UNEF/UNS threads
Tap hole size for both cutting and forming taps
Best tap hole suggestion
Tap drill selector to pick desired thread percentage
Turning
Profiling
Grooving
Boring
myCut Tool Database - your one stop for knowledge-based machining
Create tool Libraries
Create tools and add cutting data all from within FSWizard page
Store best cutting conditions for future use
Store Ordering and handling Information
Machine Profiles
Create machine profiles to accurately compensate for machine's individual power and torque curve.
Ability to stick to pre-defined RPM to support machinery with gear boxes (ie. manual mills and lathes)
HSMAdvisor Cloud Services: Upload and Download Machine Profiles from the cloud
Threads
ISO/UNC/UNF/UNEF/UNS threads
three wire measurement of external threads with custom wire size
Tap hole size for both cutting and forming taps
Best tap hole suggestion
Tap drill selector to pick desired thread percentage
Supported OS
Windows XP
Windows Vista
Windows 7
Windows 8
System requirements
ZIP Package
Some users may have difficulties downloading the executable file or they may lack the administrative rights to run the installer.
For those there is ZIP package that does not require installation and does not cause trouble during downloading.
EXE Installer
For those who just want to download and install, there is an EXE installer