Select your Workpiece Material by clicking on the drop-down list located in the Workpiece panel.



You can also search for available materials using the search function.
To access search, click on the left side of the panel.
It will expand revealing the search field.
Simply type in a couple of key characters of the material name you are looking for and the drop-down list on top will filter out items that match the search criteria.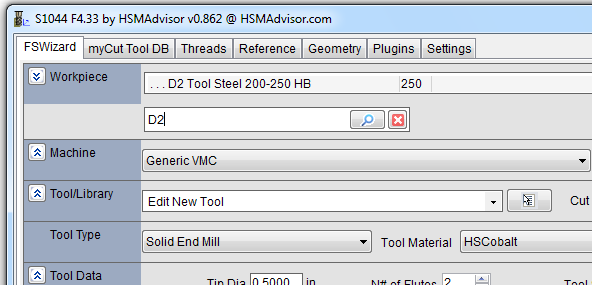 What if you can not find the material you need
In a rare case when your workpiece material is not present on the material list, you can always try to find a suitable substitute material.
Try to find the Group, that your material belongs to, and then select a material from that group that matches yours in hardness.
Can i request a material to be added into the list?
Please submit all your requests to our support email address:


You are also encouraged to post your requests on our support forums located at:
http://zero-divide.net/index.php?page=forums&shell_id=170&category_id=1123
See Also