September 12, 2015, 10:49 pm by admin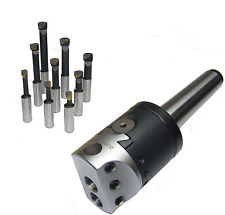 We have some (I am sure welcome) addition to our family of tool types supported by HSMAdvisor.
The new tool type is "Boring Head".
This tool is used for finishing holes on milling centres. Also in this release I have made a lot of improvements to operation of myCut Database and revised ssuggested depth of cut for milling tools when used at low radial engagement.
More details on the HSMAdvisor Download page.
Regards!
September 7, 2015, 3:53 pm by admin
Major Machine Profiles Updates in This release:
Added HSMAdvisor Cloud Services that allow users to Download and Upload their Machine Profiles.
You can now access your Machine Profiles from everywhere!
Users can also download each-other's Machine Profiles, uploaded as public.
Machine Power Curve Estimation wizard to help users map their Spindle Power Curve
Right-Click mouse click on selected rows launches a pop-up menu, that allows to insert and delete rows from the Power Curve table
August 24, 2015, 9:31 pm by admin
Latest update is now available.
Check it out!
August 20, 2015, 10:15 pm by admin
We have fixed problems with API error showing up on some computers.