August 7, 2017, 5:43 pm by admin
Better Material Cross Reference
Yes you can now use HSMAdvisor with non-US/UNS material standards!
Our users have asked for better integration between HSMAdvisor's built-in Materials library and the thing called Cross Reference table and finally here it is!
Now when you click on the "More" button next to the "Material" drop-down list...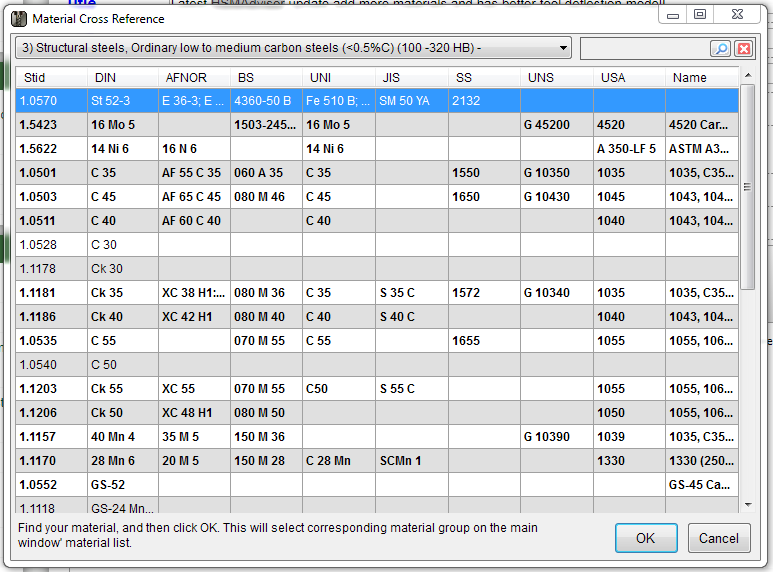 ... the updated Material Cross Reference dialog appears.
It has new Search feature to easily find the material you are looking for.
The table also has a new column called "Name" that contains the name of the closest material found in the HSMAdvisor's database.
Please note that the name of the matching material does not necessarily need to be matching the proper standard name.
Standards that have been matched to the materials are in bold font style.
When you select the proper standard, you click on the OK button and the matching material will be selected in the HSMAdvisor's Speeds and Feeds tab.
In addition to the changes above quite a few new materials were added to the fold as well.
Better Tool Deflection
I felt that the previous tool deflection model was not perfect as it did not include taper of the End Mill's shoulder.
To solve the issue we added "Tapered Shoulder" checkbox next to the "Shoulder Len." field.
If you suggested new features in the past, you know how much I hate to add new controls...
But i just had to in this case. There was just no other way!
Now when this box is checked, the shoulder will have a shape of expanding taper connecting with the shank diameter.
The slope of the taper is controlled entirely by the length of the Shoulder and diameter of the shank.
Check out the tool display for the straight versus tapered shoulder:

With all engagement and feed values identical the sample on the left shows 0.0036" deflection and the sample on the right shows just 0.001" of deflection.
Which is the way it should be!
Things to Do Next....
In the near-term scope of the development I am planning to:
Release an update for MasterCAM 2018 hook that has been in the works for a few weeks.
Combine the data from the Materials Cross Reference dialog with the HSMAdvisor's own Materials database And add Favorite Materials functionality.
This might require a complete rework of the Material selection UI. Perhaps the whole thing will be moved into a separate window to prevent cluttering the Speeds and Feeds page.
Will keep you updated.
Regards!
March 5, 2017, 10:48 pm by admin
What is new in this update:
Improved Engraving and Chamfering speeds and feeds
Improved Deflection calculation for High Feed Endmills
Removed annoying "Ding" sound on ENTER key press
Some minor bug fixes and cleanup.
I also released updated version of hooks for MasterCAM x9 and 2017
Here I made a quick video showcasing from start to end how to add the HSMAdvisor hook to MasterCAM 2017 ribbon:
February 17, 2017, 12:05 am by admin

What is new and improved in this update:
Added Custom Speeds and Feeds Tables selection on the Speeds and Feeds page
You can now quickly apply custom settings to all tools in one click
Materials that have custom Speeds and Feeds specified for them are now highlighted with green color in the drop-down
Redesigned Custom Speeds and Feeds module.
It is now on a separate dialog and is accessible not only through Edit Tool Dialog, but also from Speeds and Feeds page by clicking on "Custom Tables" Edit button.
Dialog now uses Result "in/mm" setting for displaying default units.
Fixed error on adding a Tool Library from Database Actions drop-down
Improved layout drawing and resizing speed.
Improved cut balancing for End Mills
As usual the latest update can be downloaded over here: http://hsmadvisor.com/?page=HSMAdvisor
November 26, 2016, 1:40 pm by admin

Every time we add a tenth to HSMAdvisor version number our users know we are up to something completely new and exciting!
Please welcome HSMAdvisor 1.5
Now with International Language support!
I know this feature might not be as interesting to our English-speaking users, but I believe it is a major milestone in maturity of any application.
I have been semi-secretly working on this feature for the past year or so.
Let me just quickly show you how to switch between languages
Download and install HSMAdvisor 1.5 as usual
Launch HSMAdvisor and go to Settings->General
Find button called "Select Language" and click on it
Simply select an available language from the list and click OK
You will be offered to shut down HSMAdvisor as you can not right now apply the new language mid-flight.
When you launch HSMAdvisor again, the language of the User Interface will be of that you have previously selected
If you do not find your native language in the list, do not get upset!
You can easily create your own translation.The proper process for translating HSMAdvior to other languages is described here: http://hsmadvisor.com/?page=help&shell_id=241&article_id=4883_international-language-support
What is next
In the coming months we will introduce tools for creating translations on the fly without the need to use a third-party tool.
We will add ability for users to earn their free HSMAdvisor license by participating in translation program.
And the main thing...
We will continue our hard work to stay the best software tool for CNC machinists!
By the way here are other changes that were introduced in this update:
Fixed typos and improved the look of ToolTip messages
Fixed 0 - WOC reset when changing tool type
Best Regards